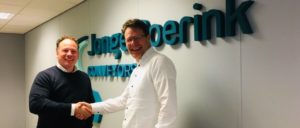 After initial success and first orders supplied to satisfied customers in India, Jonge Poerink Conveyors (JPC) had decided to open a representative office in India. As of March 13th, 2019, this representative office, in partnership with NXT Trade, launched its activities in Bangalore, India.
Through this representative office, JPC will activate its sales and marketing in India, by creating local awareness, expanding market development, offering local supply against local invoices and developing, maintaining and managing the relationship with existing and potential clients and important stakeholders
JPC has worldwide fame as a manufacturer of curved and spiral conveyors. JPC builds their business around their client's needs. Whether their application is food processing, industrial transportation, or technology. JPC has a suitable conveyor to improve their yield and help their business to grow.
JPC's strength is in developing, manufacturing, and supplying high-quality spiral and curve conveyors. They apply these products in solutions with which they enable their clients to optimize their internal processes.
Jonge Poerink Conveyors successfully continues to develop and improve conveyors with over 80 years of experience in the conveying belt market. Their Curves and Cleatrac transfers became a worldwide standard for conveying equipment.
JPC was established in 1932, in Borne, The Netherlands. Jonge Poerink Conveyors are globally acknowledged specialists in reliable internal conveying systems.